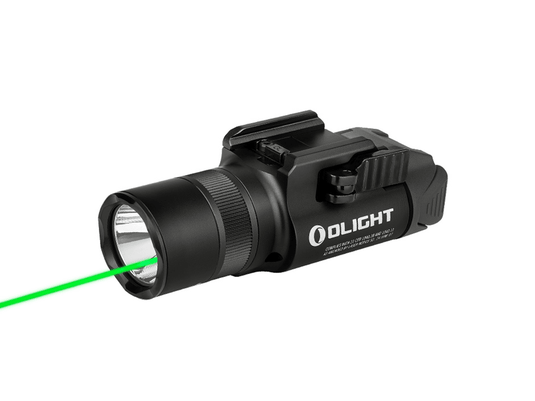 The Olight Baldr Pro R a massive 1350 Lumens with a 200 meter throw and also has the ability to project a green laser (GL).
Unlike other pistol torches with GL capabilities, this laser isn't housed beneath the torch. It's built inside of the body which makes the torch more compact.
You can easily switch between white light only, GL beam only or white light and GL combo by twisting the selector ring on the head of the torch.
The Olight Valkyrie Turbo Pistol Torch has a heavy duty quick attach and release mounting system which allows for a tight hold on any firearm with the ability to remove the torch within seconds.
Inside the box, you'll find 2 different rail inserts to fit both Glock-style rails or a 1913 picatinny rail.
Torch distance: 200m

Torch Lumens: 1350 Lumens

Switch style: ambidextrous push-forward/side-press activation switch

Selector Ring: white light only, GL beam only or white light and GL combo

Output mode(s): momentary-on, constant on, strobe
I can't say I'm satisfied because I haven't received the order yet, nor can I track the shipment. On the Royal Mail page, a message is visible that they expect the item from the sender.