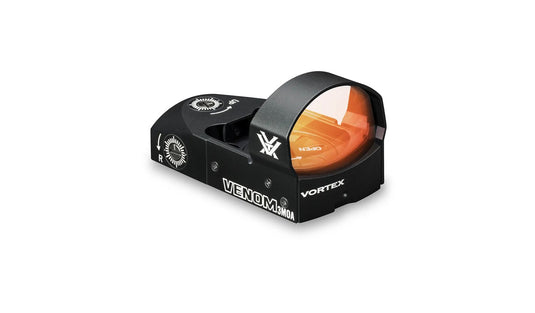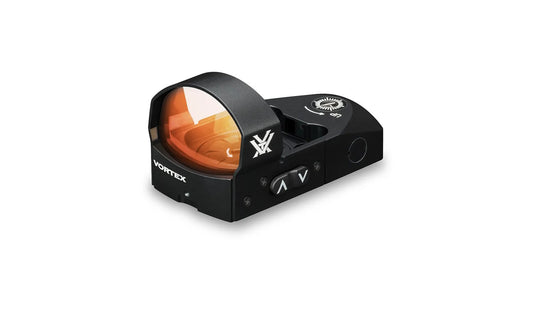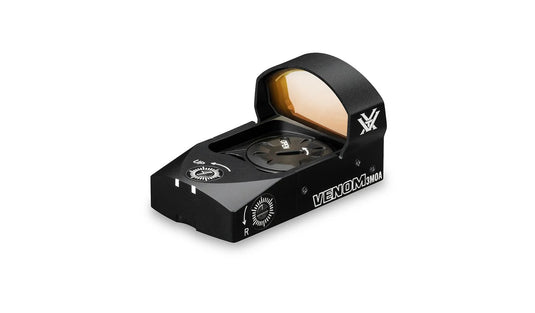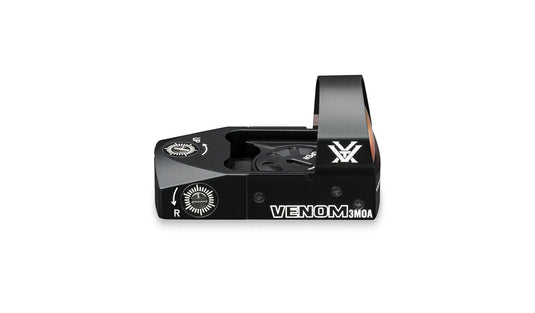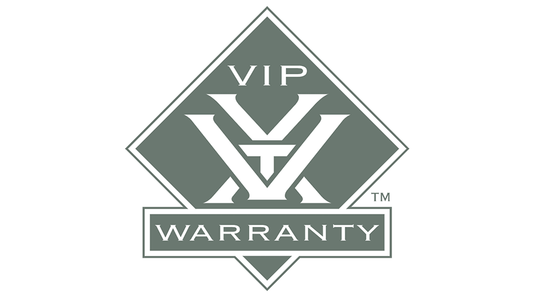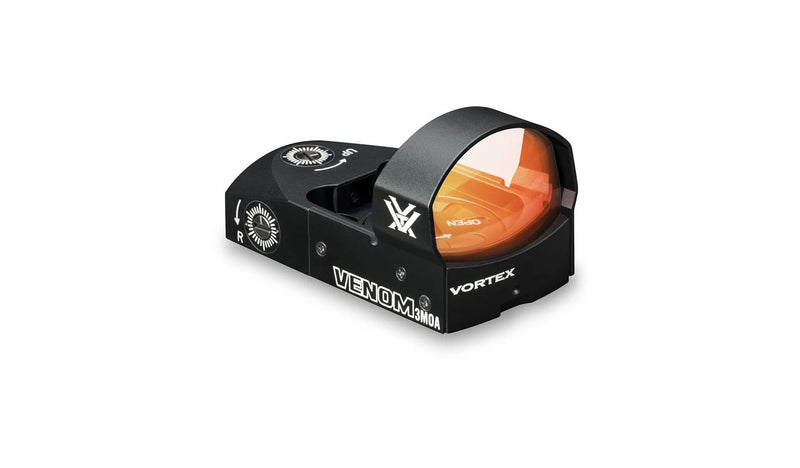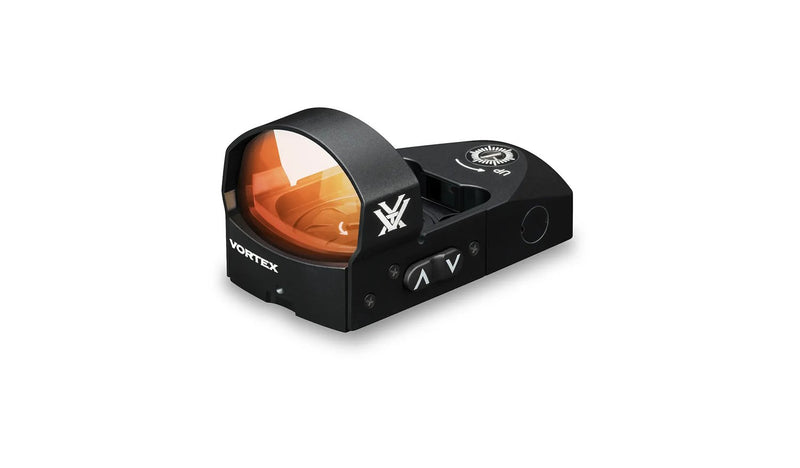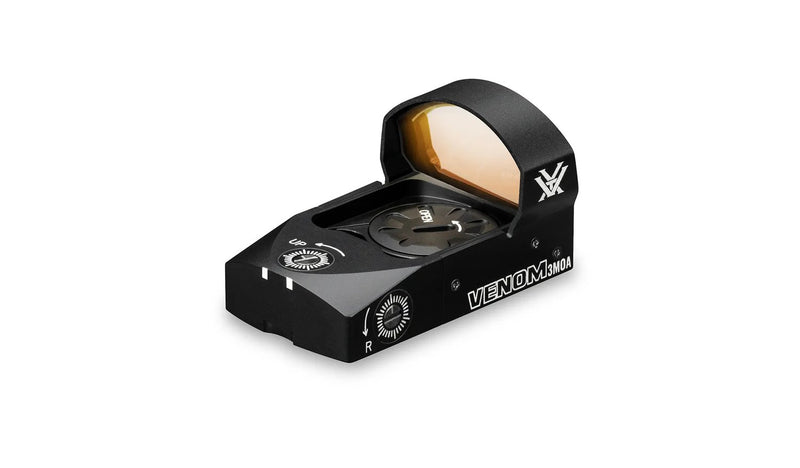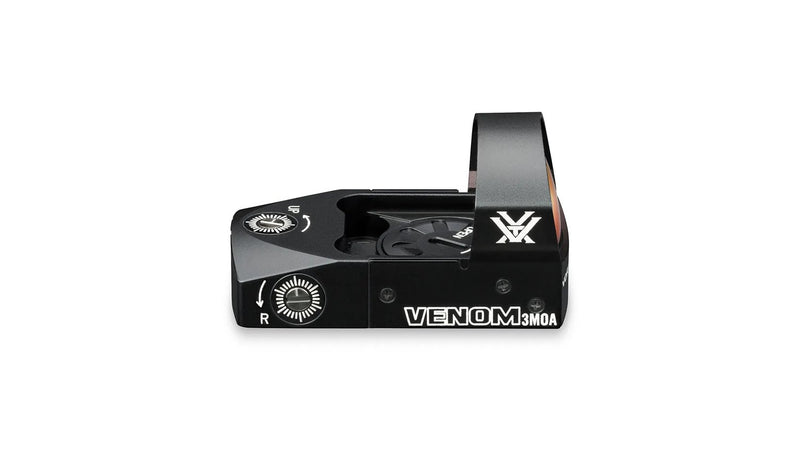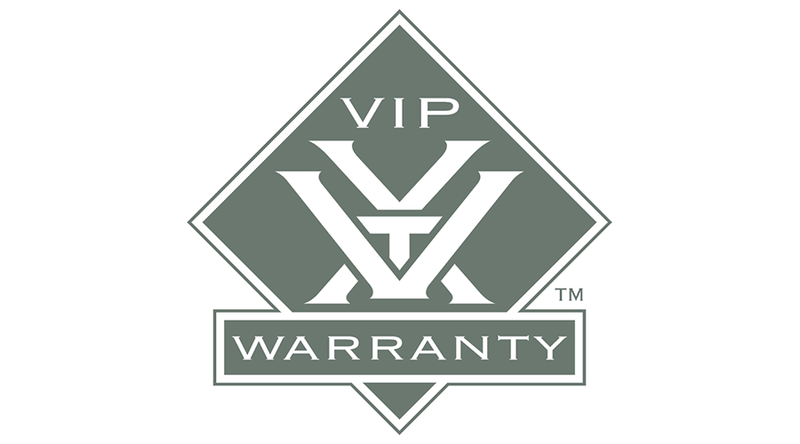 Make your AR, pistol, or shotgun even more poisonous with the Venom Red Dot sight. A 6 MOA dot promotes rapid target acquisition, while providing a precise point of aim—getting shots down range and on target fast. The durable, machined aluminium housing ensures the unit will stand up to whatever you throw at it. High-quality, fully multi-coated lens offers a clean, wide field of view. Our top-load system makes changing the CR 1632 battery a snap and alleviates the need to remove the sight when switching the power source. The power and dot intensity controls are conveniently located on the left side of the unit. Flush 1 MOA windage and elevation adjustments are super sleek and make sighting in a breeze.
FEATURES
Fully Multi-Coated: Multiple anti-reflective coatings on all air-to-glass surfaces increase light transmission.
Premium Wide-Field Lens: Exceptional edge-to-edge resolution.
Brightness Settings: Choose between 10 levels of brightness in manual mode or switch to auto mode.
Single-Piece Chassis: Compact and lightweight.
Waterproof: O-ring seals prevent moisture, dust and debris from penetrating for reliable performance in all environments.
Shockproof: Rugged construction withstands recoil and impact.
Hard Anodized Finish: Highly durable low-glare matte finish.
ArmorTek : Ultra-hard, scratch-resistant coating protects exterior lenses from scratches, oil and dirt.
Unlimited Eye Relief: Non-critical eye relief for rapid target aquisition.
Battery Life: 14-hour auto-shutdown feature maximizes battery life. Up to 150 hours of use at highest setting. Use at lower settings can allow up to 30,000 hours.
WARRANTY
Your new purchase is covered for absolutely any accident that impairs the operation of the product and any feature. Cosmetic damage that does not impair the operation is not covered. Once again, warranty if for life! If the product becomes discontinued then VORTEX will replace your item/s with a newer version completely free of charge.
You are even covered if you decide to custom spray paint over your optics, as long as you haven't gone and sprayed onto your lenses.