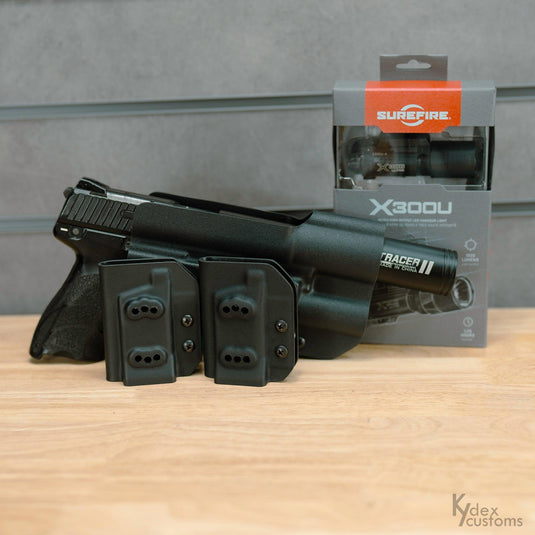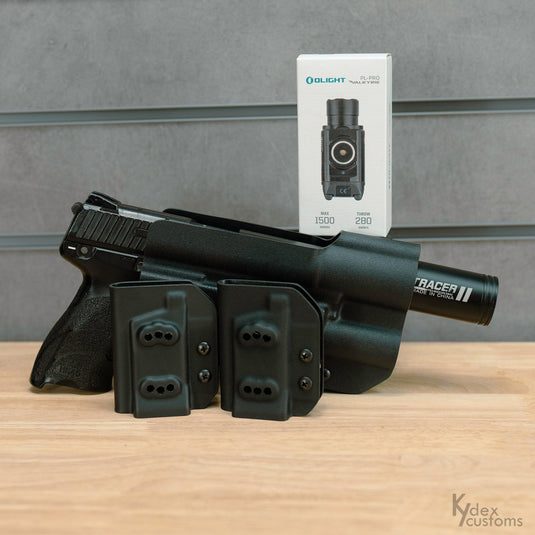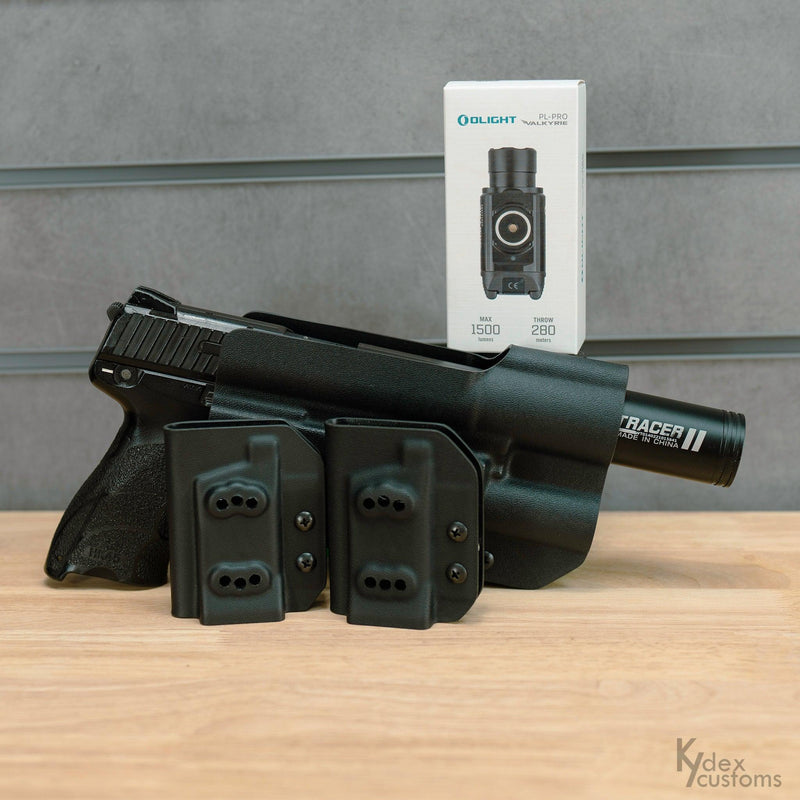 This awesome super bundle includes 1 Tracer Series Light-Bearing HK45 Holster, 2 HK45 Magazine Carriers and your choice of either a Surefire X300U-A or a Olight PL-Pro Valkyrie.
Your choice of colour/camo option is for both the holster and the magazine carriers.
Our Tracer Series Light-Bearing HK45 Holsters are designed to work with are designed to work with all makes and models of Real Steel and Airsoft HK45 on the market with a tracer or suppressor up to 35mm in diameter. These holsters are made entirely in the UK from genuine 2mm (.08") P1 Kydex. Every Tracer Series Holster has been designed to work with the tracer attached, without the tracer attached to stabilise the pistol, it will rattle excessively within the holster.
Our HK45 Magazine Carriers are designed to work with Airsoft HK45 Magazines. All of our Pistol Magazine Carriers use an MRD (Magazine Retention Device) which provides adjustable retention to the front of the magazine, allowing the carrier to hold on to the magazine with the perfect amount of resistance. To adjust the retention on the Magazine Carriers you need to screw or unscrew the silver grub screw found on the side of the carrier with a 1/8" Allen key/hex key. Please note that the magazine can only be inserted into the Magazine carrier in one orientation.
The Surefire X300U-A is popular with law enforcement and military operators around the world, the Rail-Lock version Surefires best-selling WeaponLight now delivers a stunning 1,000 lumens of LED-generated output. Focused by a precision TIR lens, it creates a far-reaching high-intensity beam with a larger center spot plus surround light, an extremely effective combination for close- to medium-range engagements. You can count on the X300U-A to help you positively identify threats at significant distances while temporarily impairing your adversary's vision. It also provides extensive peripheral illumination for maintaining situational awareness.
The PL-Pro Valkyrie is an impressive pistol torch. It utilizes a CREE XHP35 HI LED to produce a max Lumens of 1,500. It's powered by an internal rechargeable battery and is recharged by a magnetic USB cable, which is provided with the torch.
The Olight PL-Pro Valkyrie has a heavy duty quick attach and release mounting system which allows for a tight hold on any firearm with the ability to remove the torch within seconds.