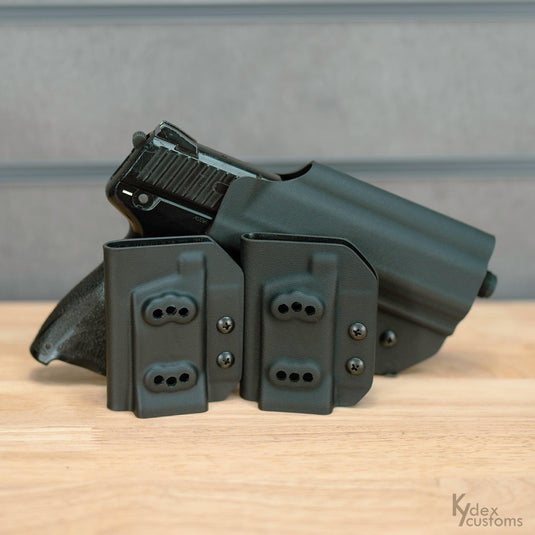 This awesome super bundle includes 1 Pro Series HK45 Holster and 2 HK45 Magazine Carriers. 
Your choice of colour/camo option is for both the holster and the magazine carriers.
Our Pro Series HK45 Holsters are designed to work with all makes and models of Real Steel and Airsoft HK45 and HK45 CT on the market. These holsters are made entirely in the UK from genuine 2mm (.08") P1 Kydex, if applicable they are also wrapped in either 1000D or 500D Cordura Fabric. Every Pro Series Holster is made with a mould which was entirely designed and manufactured by us making them the best holster possible that we can bring to the market.
Our HK45 Magazine Carriers are designed to work with Airsoft HK45 Magazines. All of our Pistol Magazine Carriers use an MRD (Magazine Retention Device) which provides adjustable retention to the front of the magazine, allowing the carrier to hold on to the magazine with the perfect amount of resistance. To adjust the retention on the Magazine Carriers you need to screw or unscrew the silver grub screw found on the side of the carrier with a 1/8" Allen key/hex key. Please note that the magazine can only be inserted into the Magazine carrier in one orientation.